Day four of my BBE journey was spent exploring more of Munich's city, I woke up on Tuesday morning to a cold 13C weather, with some wind! I wasn't prepared for weather that cold, so I had (rather stupidly) left my sweater back in Frankfurt in my luggage. I didn't expect Munich to get colder than around 16C (again, rather stupid)… And so I left the hostel quite early and headed back to Marienplatz where I know clothing stores are located. I went on a wee bit of a shopping spree at H&M because they were on sale. They had two H&M's on one street, just a few meters away from each other (Weird, but cool!)… I got myself a sweater with the letter C in front ("C" for Camie! Yay!), some new shoes (my plimsolls are starting to feel terrible on my feet from all the walking) and a scarf to keep me warmer.
Afterwards, I walked around a bit more having a look around, ended up in a deli shop where they also sold sandwiches on the go. I ordered myself a Leberkase sandwich, with some yummy mustard and ketchup.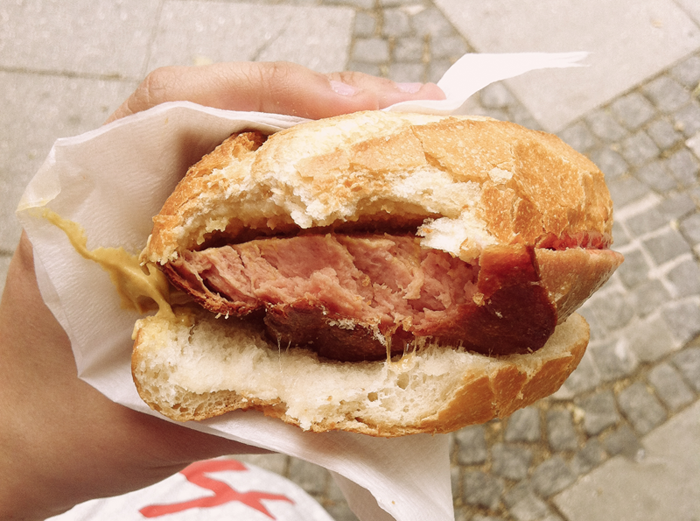 I ate it outside the shop while I watched different kinds of people come by, my observation are as follows: You've got your business people who are in a rush, girls who dress down like it's 20 degrees out, moms with their babies on strollers, foreigners who are actually locals, cute German guys, old men sporting traditional Bavarian hats, people who bike more than walk, and the rare occasion of a punk/gothic guy/girl.
I then decided to visit another part of the city, which was a train station away, where the University was located. Tina had told me that her favorite ice cream place in Munich was located near the University, the place is called Balla Beni. I found it easily with the help of Google Maps, but took my time walking to the place and just looking around the quiet neighborhood. I really liked the area because there were no tourists around, so it was quiet and the locals went about their business. I ordered a scoop of ice cream, had a seat outside the small shop, eating ice cream despite the cold. I thought it was an odd combination, freezing weather and a frozen treat, but suddenly the locals did the exact same thing I was doing, eating ice cream at Balla Beni.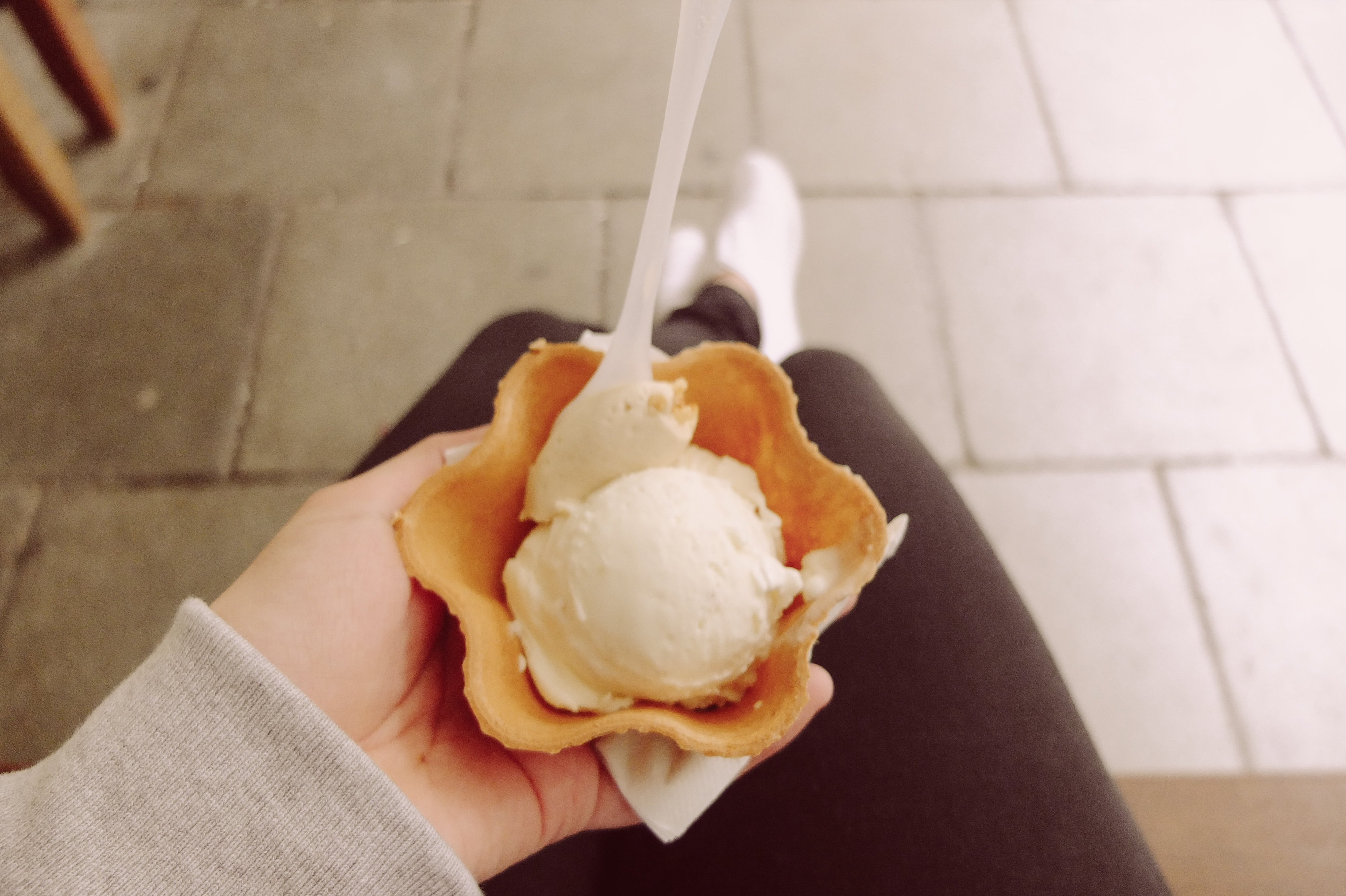 At around 4 PM, I met up with Anne, a PR Manager for the Bavarian HI Youth Hostels, for some coffee and a chat. She picked a nice cafe in Marienplatz where we hoped we'd be able to warm up from the cold weather outside. We ordered some coffee, and she ordered a dish called Kaiserschmarrn – Bavaria's national dish! It's quite tasty, and if I were to describe it, it's somewhat like a thicker version of crepe (but nothing like pancakes/hotcakes), it has some yummy raisin bits and some apple sauce/dip. One plate was enough for one person,  but Anne and I couldn't even finish half together! It was a very yummy but heavy dish.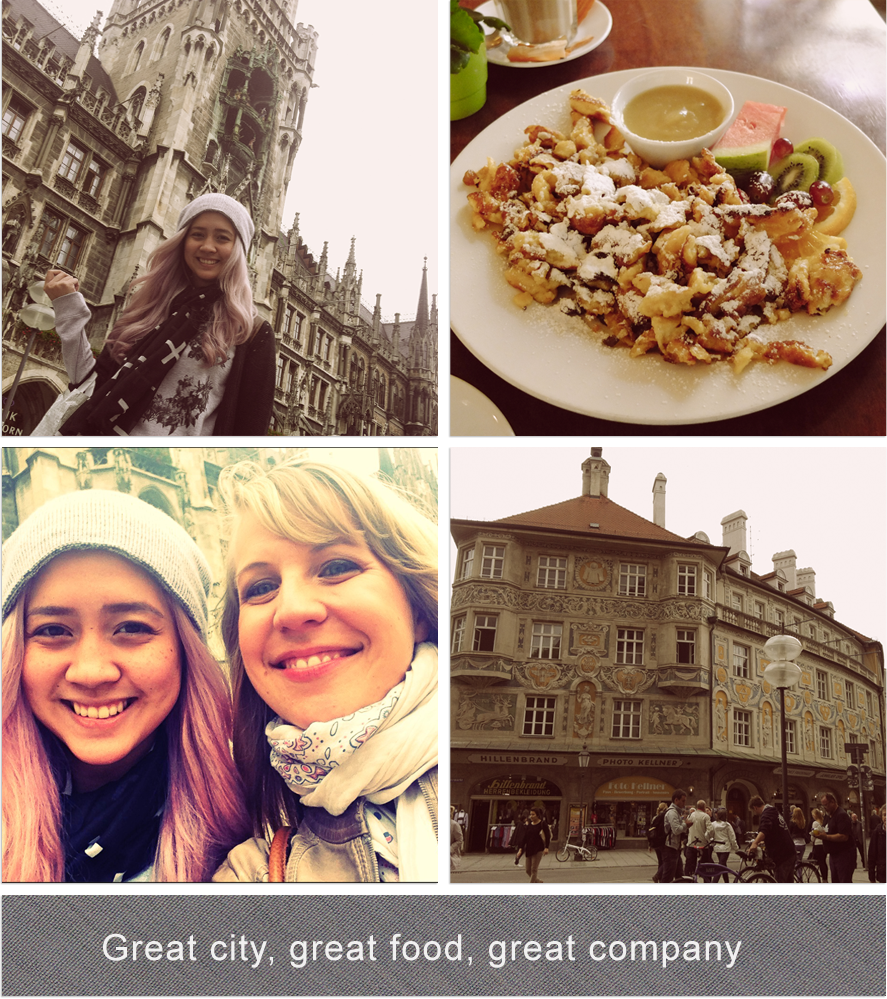 Anne and I talked about Bavaria, the differences of Berlin and Munich, and her wanting to visit the Philippine! I recommended her to visit the beautiful islands of our country, as it is truly our greatest asset in the Philippines. After our little get together at the cafe, she walked me over to Viktualienmarkt, which is an area where they have a market selling flowers and different kinds of German food, chocolates, fruits. She had to leave, and so I set out on my own to do more exploring.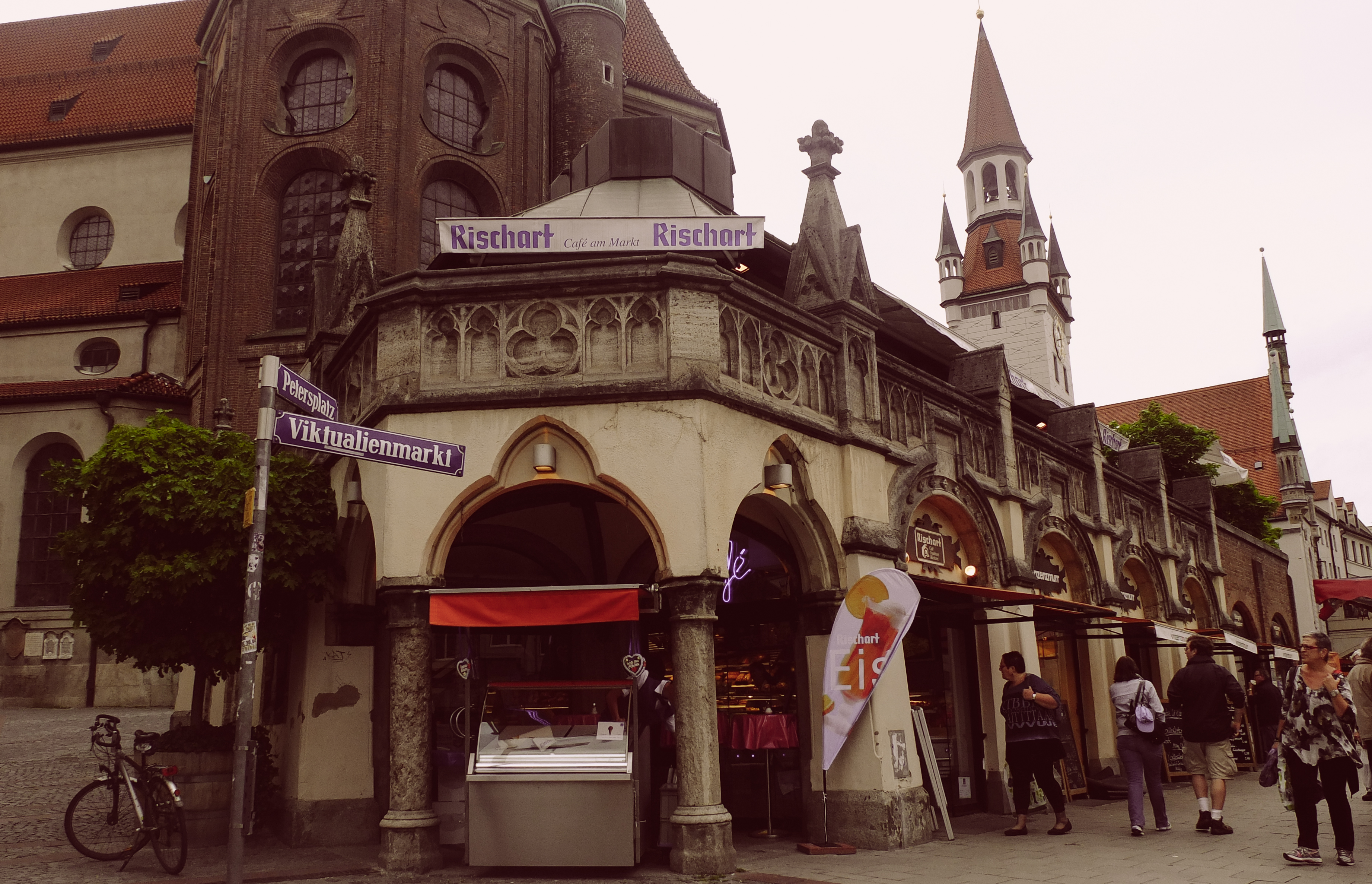 I ended up in a small building where they had food stalls and somewhat like a mini grocery inside, where the food is much more expensive than the ones found in the outside market. I walked through the place until I ended up on a set of stairs that had purple cow footprints leading to place below. I followed the purple hooves, and there it was… a HUGE Milka store!
Everything in it was a dark lilac color, which is the color of Milka. They had all kinds of chocolates, and I didn't know where to start or what to buy. The cashier lady told me it was the only Milka store in the whole of Germany – So, that settled it. I had to buy a few chocolates but not too much that it will make my bag too heavy for travel. I'm not a big chocolate person, so I bought enough for my family to try.
After a long day of exploring, I retired back to the hostel to relax and prepare for another day exploring Bavaria's most famous sights: Schloss Hohenschwangau and Schloss Neuschwanstein!